In my ongoing education process, I have just completed training for Identity Theft. Here is my certificate.
Can you spot the bogus emails from the real ones? You might want to check this site and take the test to see how you score. Educate yourself and you just might be surprised at what you find you may or may not know. Visit here and take the test to see: www.sonicwall.com/phishing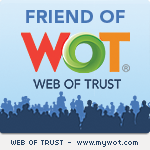 WOT Web of Trust"/>This badge will show you the reputation a website has so that you will be able to avoid nasty sites. Put one on your websites and others will see that you care about their safety.

We have a website dedicated to North Carolina businesses located here info-nc.com it is free to be listed on our website so please check it out and if you are not already listed and would like to be, please let us know from the website.

We have now also developed a website for South Carolina businesses located here www.info-sc.com so if you are located in South Carolina and would like to be included on the website for free, please go to the website, look around and let us hear back from you from the website. Notice: This site is off-line at the moment. We will re-instate shortly, so please be patient!!

My husband is an excellent copywriter for websites, so should you require anything for your website to get higher rankings on the search engines, or simply wish to have a revamp check out his website here www.mikescopywriting.com His English grammar is impeccable and faultless as he takes great pride in researching and writing the content you require.